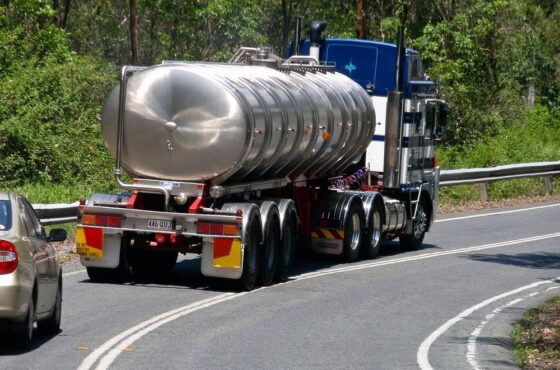 Tanker truck crashes are among the most dangerous accidents because of the hazardous materials the trucks usually transport and the weight and size of the trucks. Gasoline, ethanol, diesel fuel, radioactive materials, industrial chemicals, and agricultural pesticides are some of the toxic substances that most tanker trucks carry. The weight and size of these trucks increase the likelihood of severe injuries and fatalities in accidents.
Here is more information on the dangers that tanker truck accidents pose.
Fires
The flammable materials that tanker trucks usually carry greatly increase the risk of fires when the trucks are involved in an accident. The crash victims in other vehicles involved in the accident can suffer second-degree or third-degree burns and other serious injuries.
Explosions
Explosions are also likely to occur in tanker truck crashes. High impact crashes can easily ignite flammable materials. Tanker truck explosions usually cause life-altering burns and injuries. Fatalities are also more likely to occur in such accidents.
Rollovers
In 2019, rollover accidents accounted for 24% of all vehicle occupant deaths. Although all vehicles can roll over, tanker trucks have a higher risk of rolling over because:
They have a higher center of gravity
Many substances they transport are liquid
The challenge of keeping the trucks stable if the tank is not fully loaded
When tanker trucks roll over, they can cause catastrophic injuries to people in passenger vehicles.
Leaks or Spills
Dangerous leaks or spills can occur when a tanker truck crashes, is transporting a load that is not properly secured, or a part of the tank is defective. Nearby businesses and residents can be harmed if toxic fumes leak out of the tank. Load spillage can cause the vehicles nearby to crash.
Chemical Burns
When tanker trucks carrying dangerous chemicals crash, they can result in victims suffering chemical burns. Severe chemical burns can cause scarring, disfigurement, infection, muscle and tissue damage, and loss of limbs. Radioactive spills could cause further damage even to people who were not involved in the accident.
Injuries Sustained in Tanker Truck Accidents
Some of the injuries that individuals involved in tanker truck accidents commonly suffer include burns, spinal cord injuries, fractured bones, amputations, traumatic brain injuries, and damage to internal organs. Victims of these accidents usually face long recovery times, permanent disfigurement or disability, and even death. A truck accident lawyer can help a victim hold multiple parties liable for a tanker truck accident, such as the truck driver, owner, manufacturer, or people who loaded the cargo.