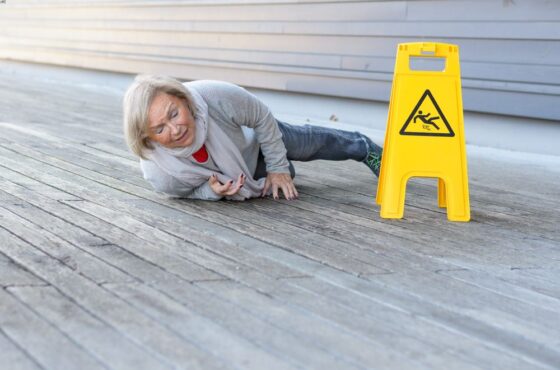 A victim can pursue compensation if his or her injuries were sustained due to a property owner's carelessness or negligence. Property owners are required to keep their premises clear of hazards for the people who visit. If a property owner violates this responsibility and a person has a slip and fall accident, the victim may be entitled to compensation.
When a Property Owner Is Liable for a Slip and Fall Accident
Property owners should exercise reasonable care to prevent people from falling on their property. If a property owner fails to exercise the level of care that a reasonable person with ordinary prudence would exercise in the same circumstance, the proprietor is said to be negligent. He or she may be liable for a person's damages caused by the negligence.
Instances, where a proprietor may be liable for injuries, include if the victim fell due to:
Wet floors resulting from accidental spills or recent mopping
Irregular walking surfaces
Poorly constructed staircases
Poor lighting
Tripping hazards
Poor housekeeping
Damages that can be recovered through personal injury lawsuits for slip and fall accidents include medical expenses, lost income, costs of property damage, pain and suffering, and emotional or mental distress.
Recovering Compensation After Slip and Fall Accidents
There are several options for recovering compensation for losses after slip and fall accidents. One can make a claim on the proprietor's homeowners insurance. Some policies, however, do not cover accident liability.
Another option for pursuing compensation is by filing a personal injury lawsuit. A personal injury case does not necessarily have to go to court. A slip and fall lawyer can negotiate a suitable settlement for a victim's injury or help him or her win a case in court.
Steps to Take After Suffering Slip and Slide Injuries
After a slip and fall, a victim can do several things to strengthen a case for compensation. He or she should seek medical treatment to create medical records documenting the injuries sustained. Such records help prove the accident happened and the injuries sustained were due to the accident.
If a person is well enough, pictures of the scene of the accident should be captured immediately after the slip and fall occurs. Pictures should include any obstacle or hazard that caused the fall and the general area. Other recommendations include capturing images of the injuries suffered and any other associated losses, informing the proprietor of the injuries, and speaking to witnesses.