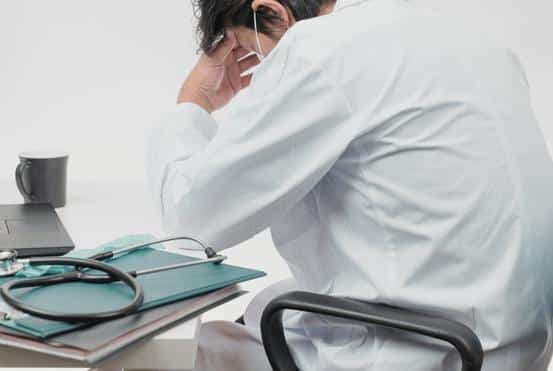 When an injury is caused by a medical procedure or a healthcare provider's error, it's important to find the right medical malpractice lawyer. Finding an attorney that's a good fit requires asking for personal referrals, doing online research, and checking with your state bar association.
What Is Medical Malpractice?
Medical malpractice is defined as the improper care of a medical patient by negligent actions or unskilled treatments provided by a healthcare professional. The scope of medical malpractice includes medical care received from hospitals, physicians, surgeons, nurses, dentists, pharmacists, or other types of healthcare workers. According to law, medical professionals owe their patients a duty of care that protects patients from harm or injury while under their care. Medical malpractice occurs when a medical professional fails to take reasonable care of a patient to avoid causing illness, injury, disease, and/or death.
According to medical statistics, approximately 12 million patients each year suffer some type of illness or injury caused by medical malpractice. Common causes include the following:
Misdiagnosis of a medical condition
Improper medical care and treatment
Surgical errors
Prescription errors
Defective medical equipment
Failure of patient follow-up
If a patient suffers harm or injury caused by medical malpractice, that patient has the right to pursue legal actions through a medical malpractice attorney to recover damages. A successful civil lawsuit may include damages for medical expenses, rehabilitation and therapy expenses, lost wages from employment, pain and suffering, and temporary or permanent disability.
How to Find the Right Medical Malpractice Lawyer
The complexity of medical malpractice cases makes it essential to have a lawyer on your side who handles these types of cases. It's important to know how to find the right medical malpractice lawyer that's a good fit for your case. Proving that a health care professional provided substandard care takes a lawyer who understands state laws and has the knowledge and legal experience necessary to win your case in court. Many states have created procedural loopholes and roadblocks for medical malpractice injury victims in an effort to discourage the practice of filing frivolous injury claims in court.
Finding the right lawyer requires due diligence on your part to ensure the best results in your medical malpractice case. You can increase your chances of success by taking the following actions:
Ask for Referrals
Filing a legal claim or lawsuit can be a daunting task, especially when it's your first experience. You may have no idea where to start or how to find the right medical malpractice lawyer who can represent you. The best way to get started is by asking friends, family members, co-workers, and neighbors for referrals. Although this may be your first experience, there are millions of people injured each year by medical malpractice. One of those people might just be someone you know.
Review Online Websites
In today's world of digital information, most lawyers have online websites for advertising and communication with potential clients. Reviewing websites for the best medical malpractice attorneys near me can help you narrow down your search to find the right one. Most websites include the following information:
Practice Areas
Lawyers' websites include practice areas that show the types of cases they handle. Types of cases may include personal injuries, birth injuries, medical malpractice, car accidents, premises liability, and wrongful death.
Professional Qualifications
Lawyers' websites always include personal information and professional qualifications of the partners in the firm. Professional qualifications usually include educational background, legal affiliations, professional recognition, awards, honors, and states of practice.
Years in Practice
When reviewing lawyers' websites, you may find the length of years in practice for each partner, as well as for the firm. It's important to note a lawyer's years in practice to determine his/her professional experience with court cases and his/her knowledge and skill with complex cases.
Case Results
Showing case results is an important part of a lawyer's website because it emphasizes legal credibility and success rates with cases. If you review the case results, you will see specific types of cases, the amount of compensation awarded, and any court verdicts or pre-trial offers or settlements.
Client Testimonials
Many lawyers' websites have a section showing client testimonials, where previous clients share their comments and experiences. Client testimonials are helpful with how to find the right medical malpractice lawyer that's a good fit because those clients have gone through similar circumstances.
Contingency Fees
Lawyers' websites usually provide information on legal fees and what's necessary to take a case. Lawyers who specialize in personal injuries, birth injuries, and medical malpractice often work on contingency fees, which means there are no upfront fees for the client. In contingency cases, clients are only responsible for fees and payments if their lawyer wins the case.
Check With Your State Bar Association
State bar association websites allow you to research prospective lawyers and gather information on their areas of practice, as well as any fines or disciplinary actions imposed. This is an important factor in finding a lawyer who has a good and honest reputation, a credible work history, successful cases, and satisfied clients.
Check with Legal Organizations
You can check to see if a lawyer belongs to personal injury trial lawyers' associations, such as the American Association for Justice (AAJ) or your state's trial lawyers' association. Information usually shows whether the lawyer is an active member or holds leadership roles in the organization, which may suggest that the lawyer is actively involved with medical malpractice cases.
Talk to Several Medical Malpractice Lawyers
Once you have done your research and narrowed down your choices, you should contact those lawyers to discuss your injuries and see if they will take your case. It's in your best interest to speak to several lawyers before making a decision about which lawyer is the best fit for you.
Setting up initial consultations allows lawyers to evaluate your case and allows you to compare the pros and cons of each lawyer. If a lawyer is not willing to schedule a phone or face-to-face consultation, reconsider your choice. However, keep in mind that reputable medical malpractice lawyers stay very busy, so their time may be limited.
What Questions Should You Ask When Looking for a Medical Malpractice Lawyer?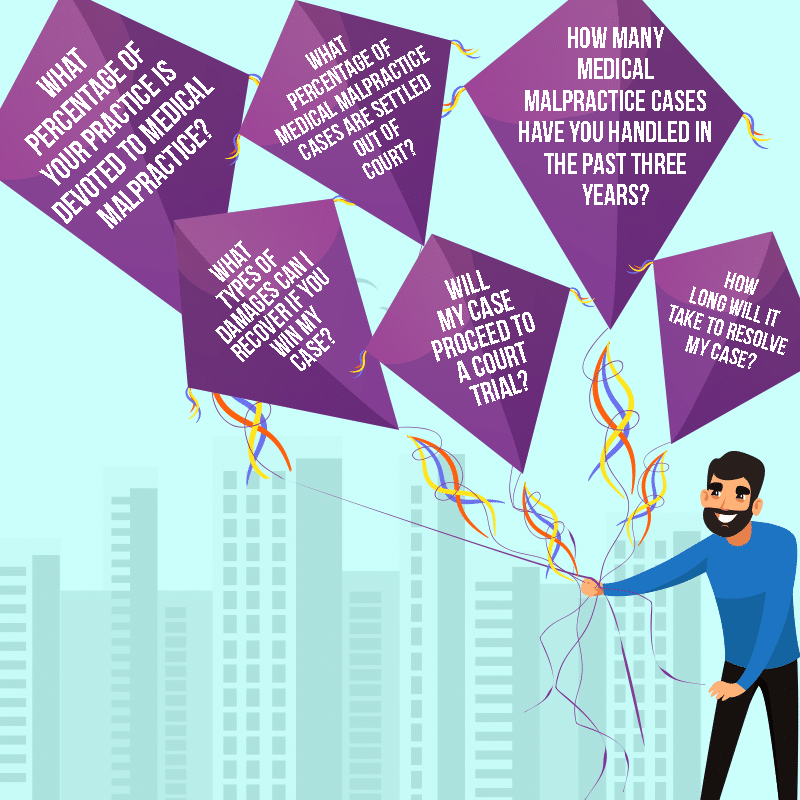 Whether your initial consultations are by phone or in person, you should prepare a list of questions prior to the meeting to discuss with each lawyer. Here are some helpful questions to discuss:
What percentage of your practice is devoted to medical malpractice?
How many medical malpractice cases have you handled in the past three years?
Will my case proceed to a court trial?
What percentage of medical malpractice cases are settled out of court?
How long will it take to resolve my case?
What types of damages can I recover if you win my case?
By addressing these important questions during your initial consultation, you increase your chances of finding the right medical malpractice lawyer for your needs. For successful results, you need an experienced trial lawyer who handles a significant amount of medical malpractice cases every year. Lawyers who take on complex medical malpractice cases on a regular basis are up-to-date on state laws, medical consent forms, court cases and verdicts, the pros, and cons of court trials and settlements, and the statute of limitations for medical malpractice claims.
Some medical malpractice "reform experts" argue that large contingency fees are driving up the cost of healthcare. As a result, some states have passed laws restricting contingency fees in medical malpractice cases. A number of states have passed laws that limit the number of recoverable damages, but most of these damage caps apply to compensation for non-economic losses, or intangible losses, such as pain and suffering, which can't be measured.
In 2010, in a case where the injured individual was represented by attorney Jeffrey M. Goldberg, the Illinois Supreme Court ruled that caps on non-economic damages were unconstitutional, and the damage-cap statute was repealed. As a result, there are no medical malpractice damage caps in Illinois. An injured individual can pursue economic damages (tangible damages) that cover medical expenses, rehabilitation expenses, and lost wages/earnings, as well as full and fair non-economic damages (intangible damages) such as pain and suffering, emotional trauma, physical scarring/disfigurement, disability or the loss of the normal enjoyment of life, caused by medical malpractice injuries.
How Do You File a Medical Malpractice Claim?
Once you determine how to find the right medical malpractice lawyer, setting up a meeting is the best way to determine if you have a valid medical malpractice claim. Your lawyer can discuss the details of your injuries with you, gather your medical records and documents, talk to medical witnesses, and decide how strong your case is and if it's better to proceed to a court trial or settle the case out of court.
Medical malpractice cases are often complicated and difficult to prove due to the nature of the patient's injuries and the involvement of multiple hospitals, doctors, surgeons, and specialists. If the patient has previous medical conditions or injuries that could play a role in current injuries, proof can be difficult without related medical records and testimony from medical experts.
After consulting a medical malpractice lawyer, you may be told that you have a strong case and that your chances of winning in court are good. On the other hand, you may be told that you don't have a strong case or that your case will be too difficult to prove in court. Your lawyer may advise you to settle out of court to prevent high litigation costs for a case that you likely will not win. If a settlement is advised, your attorney will negotiate with the insurance companies that represent involved medical professionals to get you a fair, adequate settlement to cover your damages.
Whether you decide to file a medical malpractice lawsuit in civil court or work out a fair settlement agreement to cover damages, you should talk to your lawyer about how long the case will take from start to finish, what will be required of you, how the process may impact on your lifestyle and finances.
Choosing a Court Trial or a Settlement
Court cases must follow certain procedures by law, so the process can be complicated and lengthy. Depending on the issues involved, it may take months or even 3-4 years to have a trial in court. The average timeline for medical malpractice cases in Illinois is about 24-36 months from the time of filing the lawsuit until a trial, depending on where the lawsuit is filed. In some medical malpractice cases, parties reach a settlement agreement before a lawsuit is even filed.
The Statute of Limitations
In every state, the statute of limitations filing deadline places a time limit on filing medical malpractice claims with the court or the claims become forever time-barred. If you want to file a medical malpractice claim in Illinois, you must file it within two years of the date of your injury or the date that you reasonably should have discovered your injury. In addition, medical malpractice claims for adults must be filed within four years from the date the medical malpractice occurred, even if the injury victim was not aware of his/her injury until a later date. After four years pass, the court will dismiss an adult's medical malpractice claim and deny recourse for damage awards. There are different time limitations for minors or those who are cognitively disabled.
Keep in mind, the statute of limitations may not be a problem if you were prevented in some way from asserting your legal rights. While the court only looks at whether you filed your claim within the required statute of limitations, your lawyer may see other factors that play a role in your case, such as age, fraud on the part of the defendant, or an impairment that prevented you from filing a timely claim.
Knowing how to find the right medical malpractice lawyer will aid you in choosing a legal representative who ensures you make timely filings. If you have a potential medical malpractice claim, call the experienced medical malpractice attorneys at Jeffrey M. Goldberg Law Offices at 312-236-4146.