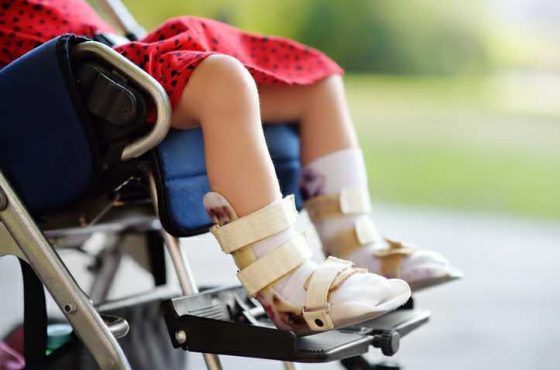 Medical negligence during birth often leads to cerebral palsy. Many children who suffer from cerebral palsy are unable to walk, due to poor muscle tone and balance. Some may require lifelong care and the use of walking devices in order to stay mobile.
Researchers examine the combination of footwear and splint tuning
Researchers have found a breakthrough discovery regarding the combination of footwear and splint adaptations to try and help disabled children walk. According to a study published in Science Direct, this combination was found to reduce the amount of energy used by disabled children by 33 percent.
The British study was conducted by the Clinical Biomechanics team at Staffordshire University and the orthotics specialists from The Royal Wolverhampton NHS Trust. By using clinical trials with West Midland families, researchers were able to analyze the effectiveness of the combination of footwear and tuning the splint. This included examining:
Walking patterns of children with cerebral palsy;
Assessments of walking while barefoot; and
Comparisons between walking with non-tuned or tuned splints.
Improving the lives of those with cerebral palsy
It was concluded that appropriate use of, and tuning of, splints reduces the amount of energy needed to walk. It can also increase speed and distance. This is in contrast to splints that aren't adequately tuned. The improvements were linked to better hip and pelvic functioning and knee extension with properly tuned splints. A decrease in hip functioning was found with non-tuned splints.
"Helping children with disabilities to play longer and do the things that other children can do is important for all families. The more children with disabilities can play with their friends and do activities they enjoy, the more included they feel," said Nachi Chockalingam, Professor of Clinical Biomechanics. "We know that children with cerebral palsy use more energy to walk and our team has found fine-tuning splints to suit the individual needs of a child can make huge difference to their overall mobility."
The researchers involved in the study are hopeful that this discovery will be considered for future clinical care, and that it will help improve the lives of all children with cerebral palsy.
"There still remains a lack of research on the longer-term effects of using fine-tuned splints but our studies provide a stepping stone to improving quality of life for many children," said Chockalingam.
What if my child suffers from cerebral palsy as the result of a birth injury?
Birth injuries can lead to cerebral palsy. Children and their parents are often subjected to a lifetime of medical expenses. Cerebral palsy can also impact quality of life, and cause emotional pain and suffering.
If your child suffered a birth injury, you deserve to be compensated for current and future financial losses. An experienced attorney at Jeffrey M. Goldberg Law Offices can help you explore your legal options. We represent families throughout the Midwest from our law offices in Chicago, Illinois and Milwaukee, Wisconsin. To learn more about how we can help you, fill out our contact form online.