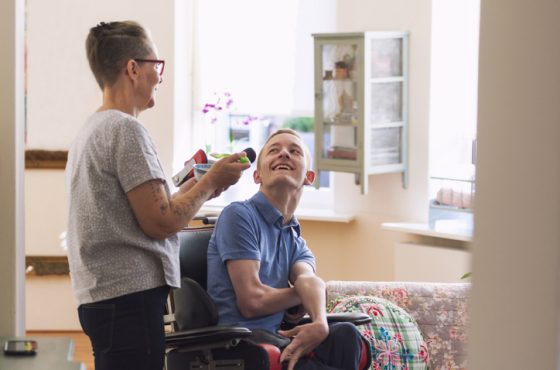 Roughly 1 in 4 children per 1,000 live births are born with cerebral palsy, which requires ongoing, lifelong rehabilitation and treatment. People with cerebral palsy, or CP, experience issues with coordination, stiff and/or weak muscles, and potential challenges with vision, hearing, swallowing, speaking, sensation, and bowel and bladder function. Due to challenges with feeding, some children with CP may be at risk of malnutrition.
CP is one of the leading movement disorders in children. Today, we are seeing more caregivers offering care for children, teens, and adults with CP, according to News Medical Life Sciences.
New cerebral palsy caregiving methods
In a collection of articles published in the Journal of Pediatric Rehabilitation Medicine, scientists and medical professionals summarized research aimed at maintaining and improving function, independence and quality of life in people with CP. The articles highlight several issues people with CP face, as well as those who care for them. The purpose is to provide new strategies for caring for people with CP.
"Children with CP and their families have always been a significant part of the scope of the Journal. They are frequently seen in trans-multi-interdisciplinary settings with pediatric rehabilitation medicine playing a significant role in their care, for example, spasticity management. The practice of spasticity management continues into adulthood as do other functional interventions," said Michael M. Green, DO, Associate Professor of Physical Medicine and Rehabilitation, School of Medicine, University of Utah.
Expanding clinical care for children
The special issue of Journal of Pediatric Rehabilitation Medicine was guest-edited by Green, as well as Deborah Gaebler-Spira, MD, Professor of Physical Medicine and Rehabilitation and Pediatrics, Feinberg School of Medicine, Northwestern University, Chicago, IL.
Green not only cares for children with CP, but he's also a member of the American Academy for Cerebral Palsy and Developmental Medicine (AACPDM) — an organization of healthcare professionals dedicated to providing scientific education and research, as well as services for children with CP, or those at risk of developing CP.
Gaebler-Spira, also a member of AACPDM, has worked with families and children with CP for more than three decades, as well as multidisciplinary pediatric healthcare professionals to help children with CP maximize functionality and quality of life.
According to Gaebler-Spira, the focus of CP care should extend beyond childhood:
"Our training exposes all of us to adults with disability. Faculty enthusiastically engage with all pediatric rehabilitation medicine residents by teaching and expanding the clinical care for children with CP who are aging into adulthood. Many of us in academic programs have taught the next generation of pediatric rehabilitation providers to consider the needs of adults with CP and continue to work with adults to maintain function and independence."
Extending cerebral palsy care into adulthood
No cure currently exists for cerebral palsy. Supportive treatments, certain medications, and surgery may help improve the quality of life for those with CP. To help caregivers and medical professionals provide quality treatment, the issue of Journal of Pediatric Rehabilitation Medicine covers these topics:
Improving scoliosis care
Realistic goal setting
Home exercise programs aimed at improving walking ability in children with diplegia
Improving walking speed in adults with CP
Prevalence and goal attainment in children with spinal orthoses
Carbon-composite ankle foot orthoses efficacy
Ways to improve postural symmetry in children with hemiplegia
Intramuscular injection safety for children with CP
Nutritional care
Assessment of eating and drinking abilities
The attorneys at Jeffrey M. Goldberg Law Offices are excited to see emerging treatment and care options for children and adults with CP. If your child, or another loved one, lives with CP, undergoing treatment and care regularly can be costly. It can also often be emotionally overwhelming.
Your child or loved one deserves the best care possible, as well as improved quality of life. Our Chicago birth injury attorneys would like to work with you to help you cover your costs. We'll investigate your claim and find out exactly what happened. Our legal team serves clients in Chicago, Illinois and Milwaukee, Wisconsin. To find out how we can help you, contact us online to schedule your free consultation. We are caring and compassionate birth injury lawyers who have been fighting for families for over 40 years.